CONGRATULATIONS!
You are one step closer to entering The Race Against Extinction!





We do not discriminate amongst species. We are looking for Cheetahs (experienced runners), Gazelles (inline skaters), Kangaroos (parents with stroller & stroller jockeys), Tortoises (walkers), and even Wolf Packs (runners or walkers with pets). If you can't run or walk this year's race, please contact us about volunteering for the race at raceagainstextinction@gmail.com
One can register by:
One can register by clicking here via active.com to complete our online registration form and pay via credit card. (Please note that a credit card and processing fee will be included.)
or
If you wish to register through the mail and pay the registration fee with a check please email us at raceagainstextinction@gmail.com.
Registration is first come, first serve. Please contact us for more information.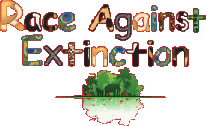 Please join us for our next race at 11:00 on April 22, 2012
at Artesani Park in Boston!
Race proceeds to be donated to environmental organizations including The Nature Conservancy, and The World Wildlife Fund.